Hey, I'm Josh Mōller-Mara. I'm an th year PhD candidate studying Neural Science at NYU, currently living in San Francisco. Before that, I graduated from UC Berkeley with a triple-major in Computer Science, Cognitive Science, and Statistics.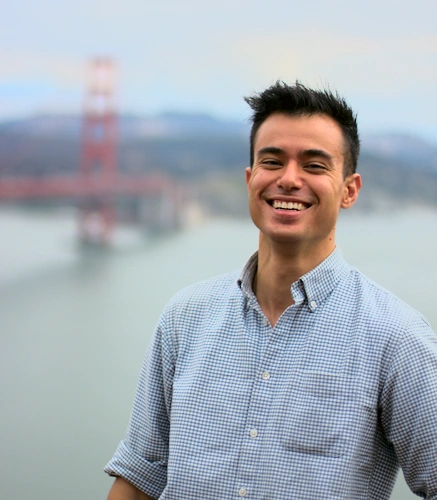 Interests and Research
I'm interested in neuroeconomics, decision-making, Bayesian statistics, computational reproducibility, and free software.
My research in neuroeconomics as a PhD student revolves around risk. Specifically, how do mice and rats make decisions under risk? And can we compare their preferences across time and between species?
Answering these questions requires a large amount of data. So, in the Erlich Lab in Shanghai, I helped to design and build a high-throughput rodent experimental system that automated the process of collecting and analyzing hundreds of thousands of behavioral choices. Here I applied my background as a Linux systems administrator, using an infrastructure-as-code approach to ensure systems were reliable and reproducible. Some of the tools I used were Ansible (and occasionally Docker), Clojure (for backend real-time analyses), ClojureScript + React/reagent (for a front-end dashboard for our system), MariaDB, RabbitMQ, and Nix (for reproducible analyses).
To infer preferences from choices, I designed and wrote Bayesian statistical models in Stan and R. For more on this check out my Society for Neuroeconomics 2021 poster.
Technology
I exclusively use free and open-source software. (Check out the GNU project's explanation on why free software is important.) I believe that free software is more accessible (especially considering socioeconomic status) and reproducible than proprietary counterparts, and importantly it encourages mutual cooperation and the sharing of knowledge.
To this end, I use Emacs for my text editor (check out mollermara.com for blog posts on Emacs, or /emacs), GNU/Linux (NixOS) for my operating system, and programming languages like R (instead of MATLAB). Check out more of what I use on my /uses page or in my /notes/.
Contact
Check out my /contact page for my contact info.
FAQ
What's with the macron ("ō")?

It's mostly just to notate how to pronounce my last name. That is, with a long "o" sound like "mOH-ler" (/ˈmoʊlər/) and not "mahl-er" (/ˈmɑːlər/).

It's not part of my legal last name ("Moller-Mara"), though I don't think many systems in the US accept any form of accents. So you'll also see me use "Josh Moller-Mara", especially where Unicode support doesn't exist.

My dad, Ken Möller uses an umlaut, even though he pronounces it the same. My uncle has been known to use a slash (e.g. "Møller"). Honestly, I kind of just use it similar to a metal umlaut because I think it looks cool.

"Josh" or "Joshua"?

"Josh" normally, "Joshua" if I'm in trouble.

I only really use "Joshua Moller-Mara" for things like airplane tickets. And even then, they often drop the hyphen even though it's required.

Why do you have multiple websites?

mollermara.com is my blog, which is pretty outdated currently (see "Am I Still Here?"). It's perhaps a bit more professional than this site.

jmm.io was originally my site for experimenting with web technologies like websockets, Node.js, Redis, and other things. I still use it for experimenting with web stuff, though these days I'm using my own Clojure backend instead of Node.js. I've also started using it more for notes and other public-facing technical things since

"jmm.io" is easier to remember and type than my last name
This site's backend is more flexible than my static site